Public Notices
Town Council Agenda & Minutes
2023.06.14 PUBLIC HEARING NOTICE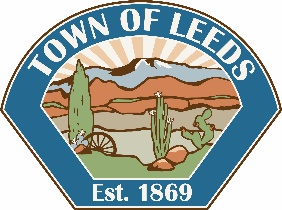 TOWN OF LEEDS
Town Council Meeting
PUBLIC HEARING NOTICE
Notice is hereby given that a Public Hearing will occur at the
Town Council Meeting on
Wednesday, June 14, 2023 at 7:00 p.m.
At the Leeds Town Hall 218 North Main Street, Leeds, Utah.
The Leeds Town Council will hold a public hearing on the above-mentioned date to consider the following proposed item:
2023-24 Tentative Budget for the General Fund and Capital Improvement Fund
Copies of the proposed 2023-2024 Tentative Budget and will be available for review at Leedstown.org and the Leeds Town Hall during regular business hours (9:00 a.m. to 2:00 p.m. Monday – Thursday)
Interested persons are encouraged to attend the public hearing to be held in the Leeds Town Hall at 218 North Main street, or present their views in writing to the Leeds Town Clerk/Recorder prior to the meeting.
Certificate of Posting
The undersigned Deputy Clerk/Recorder does hereby certify that the above notice was posted May 31,2023. The public places being at Leeds Town Hall, Leeds Post Office, the Utah Public Meeting Notice website http://pmn.utah.gov, the Town of Leeds Website www.leedstown.org, also published in the Spectrum Newspaper.
_______________________________________
Aseneth Steed
Clerk/Recorder
Share on Facebook
Share on Twitter
Share on Pinterest